In depth: IDF shifts focus to tunnels
As military troops attempt to uncover and destroy as many tunnels as possible before ceasefire is signed, Hamas does everything in its power to slow down the forces' activity – including desperate suicide attacks.
Ron Ben-Yishai
IDF forces began to expand Israel's ground operation in Gaza Strip on the 12th day of Operation Protective Edge, with the focus shifting to destroying as much of Hamas' terror tunnel infrastructure before a ceasefire is reached.
Hamas for its part is doing everything it can to slow down the incursion, including desperate suicide attacks on forces.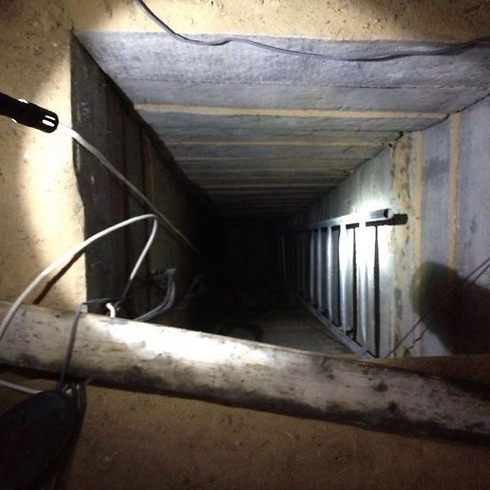 Terror tunnel (Photo: IDF)
"We feel growing frustration and tension (in Gaza)," a senior IDF official told Ynet, "our operation is stirring the tunnels. Hamas wants to make full use of them and they feel we're on to something significant," the official said in reference to the new focus on tunnels.
The army claimed that since the ground operation began, some 34 terror tunnels were discovered, 20 just in the last 24-hours, five of which had exit-points within Israel.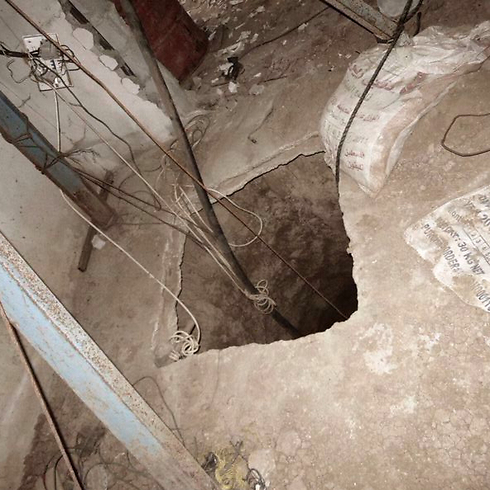 Photo: IDF
The official added that as of now, a little over two days into the ground operation, the IDF is targeting some 13 additional tunnels: "All of our efforts are focused on them now."
His comments came after an incident Saturday morning in which some 13 terroristsentered Israel via tunnel and attacked an IDF patrol force.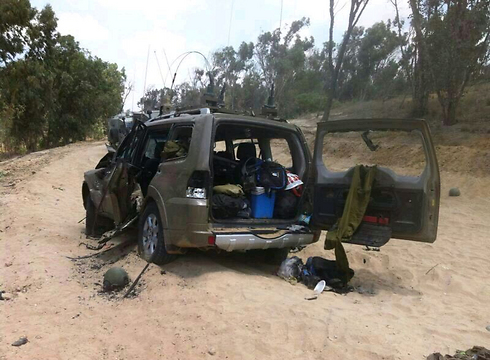 Patrol jeep destroyed after Hamas infiltration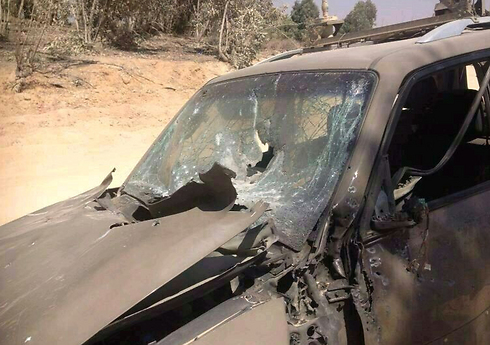 Patrol jeep destroyed after Hamas infiltration
Sgt. Adar Barsano and (res) Maj. Amotz Greenberg were killed in the attack. One terrorist was killed while the rest managed to make their way back to Gaza.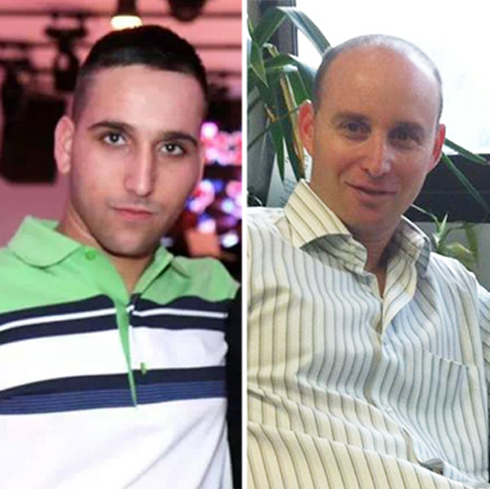 Sgt. Adar Barsano (L) Maj. Amotz Greenberg (R)
Hamas boast arms they claim to have stolen from IDF
The official also said that though tunnels are now the main focus, the IDF is aware that there is a good chance they will not be able complexly neutralize what the army says is a web of interconnected tunnels.
"It is very possible that after we leave some of the tunnels will remain in place. We cannot be a hundred percent certain."
The mission, he explains, is marred by the fact that Hamas booby-trapped the tunnels, forcing the forces to work slowly and at time in open areas in Gaza, leaving them exposed to sniper and anti-tank fire.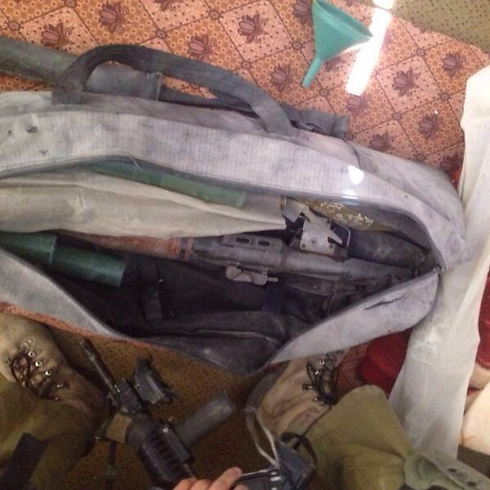 Arms found in tunnel (Photo: IDF)
Hamas is also actively attempting to exact a toll from Israel, to better its position ahead of a ceasefire deal, by also focusing their efforts on preserving the tunnels.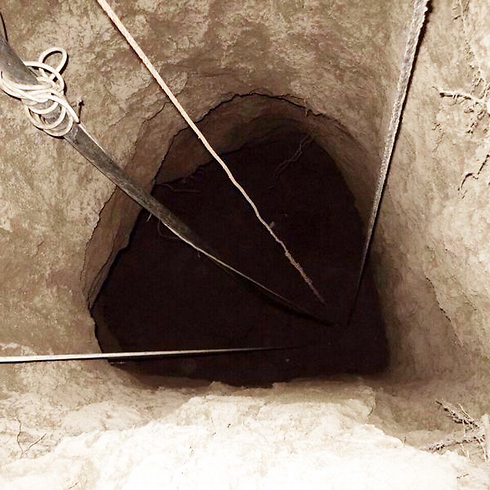 Photo: IDF
In one such case, a terrorist armed with a suicide belt blew himself up near a force working to expose tunnels with the help of the massive D9 tractor. After he detonated himself an armed Hamas man exited the tunnel and opened fire on the forces. Two terrorists were killed in the incident.
"Our intelligence tells us that Hamas will attempt to kidnap soldiers and pull soldiers inside tunnels and harm them, which is why the soldiers are briefed about it."
During Saturday, the IDF continued to deploy forces on the border of the Gaza Strip in preparation for the possibility of the expansion of the ground operation.
IDF Armored Corps and the IAF hit many terrorist targets in the area of Nahal Oz at the evening hours. Earlier in the day, an IDF Spokesperson's Unit issued a statement saying that since the entry of forces into the Gaza Strip, troops had uncovered 34 tunnel shafts and five tunnels that led to Israel. Thirteen terrorists were arrested and taken to Israel.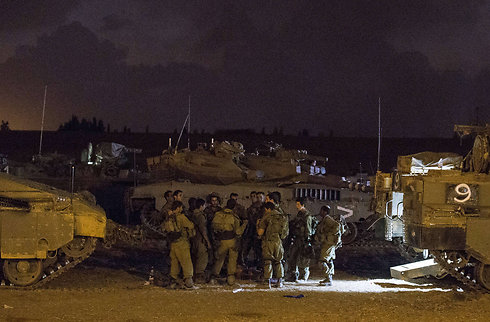 Forces outside Gaza (Photo: AFP)
Throughout the weekend, despite the ground offensive in Gaza and the strikes carried out by the IAF, rockets continued to rain on Israel.
Israel's army said on Saturday Gaza-based militants had used up or lost about half of their rockets in 12 days of fighting - though the Islamist fighters say they have been replenishing their arsenal.
The Israeli military said Palestinian fighters had fired at least 1,705 rockets out of an estimated stockpile of about 10,000, a depletion of about 17 percent.
"I think that we have hit and destroyed 30 to 40 percent of the rockets," IDF Spokesman Brigadier-General Moti Almoz said.
Roi Kais, Yoav Zitun and Reuters contributed to this report
Maak jouw eigen website met JouwWeb