Kidnapping....you shall not steal
In the Aseret ha-dibrot [10 commandments] Thou shalt not steal is interpreted in the Talmud as :you shalt not kidnap!
What our neighbours think they can permit themself is a serious capital offense.
See story below: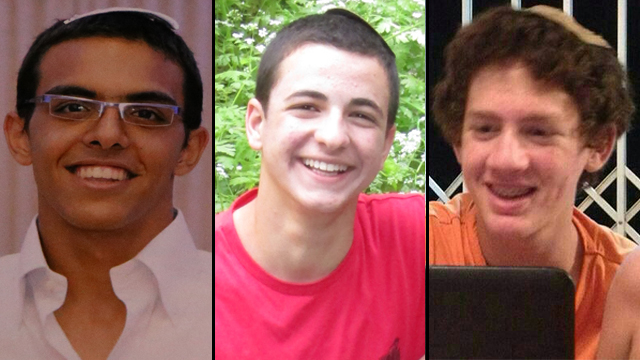 Left to right: Eyal Yifrah, Naftali Frenkel and Gil-Ad Shayer
Israel must act with its head, not with its heart, in dealing with teens' abduction

With solid intelligence-gathering and by following clear-cut guidelines, Israel could perhaps avoid a tragic outcome and minimize the threat of further kidnappings.

A modicum of optimism can be found in Prime Minister Benjamin Netanyahu's comments at his press conference Saturday evening, two days after the kidnapping of the three Israeli teens in the West Bank. He said unequivocally that a terror organization was behind the kidnapping, and even hinted that it could be Hamas. He did not say so directly, but it was possible to infer as much from his words.

This is important because if a well-trained organization like Hamas planned, initiated and undertook such a kidnapping, it is their responsibility to protect the lives of their abductees. Not on humanitarian grounds of course, but rather out of pure self-interest. It is crystal clear that Israel will respond to a demand to free prisoners in return for the three differently if it has assurances that they are alive and well, and not God forbid, if they are no longer with us.

Another interesting issue to be considered in this respect is that if the kidnapping was in fact perpetrated by a fully-fledged terror organization, and its preparations went unnoticed by the Shin Bet and the intelligence community, it appears that there is an intelligence gap that must be dealt with immediately.

At this stage, however, it seems that the IDF and Shin Bet are still at the start of a long investigation process that includes an attempt to reach those directly involved in the kidnapping. This is done through an array of methods, but primarily arrests and interrogations.

Even though search efforts are still in full swing and the IDF instigated preventive measures at least 4 or 5 hours after the initial event, security forces have only a few leads, including the burnt-out car found near the scene of the kidnapping. Each lead must be worked until those directly responsible are found, and only then we will be able to understand how the kidnapping actually took place.

Left to right: Eyal Yifrah, Naftali Frenkel and Gil-Ad Shayer

Once a full intelligence assessment has been completed, it will be possible to answer the 'five Ws' - Who? What? When? Where? Why? - which every journalist and intelligence official knows by heart. Then the time will come for decisions to be taken: Should a raid or a military operation be mounted to free the hostages, or should we enter negotiations with the kidnappers? This is also contingent on whether the kidnappers make contact with Israel and issue demands.

There is the possibility, which we must pray does not come to pass, that the kidnappers will not take responsibility or call to negotiate because they have nothing to offer. This is undoubtedly a possibility that Netanyahu, Defense Minister Moshe Ya'alon and Shin Bet leaders have taken into account. A failed kidnapping is undoubtedly the worst case scenario.

A more optimistic scenario is one resulting from a half-decent round of intelligence gathering, in which case a rescue operation will be conducted with the main goal of getting the hostages back alive, thus avoiding past eventualities such as in the case of abducted soldier Nachshon Wachsman, where an attempted rescue deteriorated into a catastrophe in which both Wachsman and Sayeret Matakal Captain Nir Poraz were killed.

Then-prime minister Yitzhak Rabin decided that if it were possible to conduct a rescue operation with only a moderate and reasonable threat to human life, the mission must be conducted. If this is impossible, negotiations should begin. This principle was implemented not only by Rabin but also by every Israeli government that has put into motion massive wholesale prisoner exchange deals, which have in turn only encouraged Israel's enemies – namely Hezbollah and the Palestinians – to strive to kidnap more and more Israelis.

In this sense, it can be said that the Gilad Shalit deal caused a tsunami of kidnap attempts the likes of which had never been seen in Israel. This tsunami must be halted today. The Shamgar Committee, formed by then-defense minister Ehud Barak in 2008, laid out principles by which Israel should negotiate with kidnappers should a military option prove impossible. The committee suggested the following equation: The living for the living; dead for dead; one for one; nothing more. These guidelines should be followed to a tee.

Another point that should be taken into account is the need to instill in Israelis, namely settlers, that under the current conditions hitchhiking in the West Bank is nothing short of a recipe for disaster. The young boys and girls who gather at bus stations and junctions in flashpoint locations such as Tapuach Junction, Gush Etzion Junction and other less crowded places in the West Bank must know they are responsible not just for their own lives and the well-being of their families, but also the lives of the soldiers who will be sent to rescue them should they fall captive.

And one last important point - more than 48 hours have passed since the boys were kidnapped. There is no need to act rashly. It is better for Israel to keep cool and use all the means it has at its disposal to create a proper and reliable grasp of the situation, and only then reach a decision regarding the next steps. This will obviously not happen tomorrow, so we must be patient.
Maak jouw eigen website met JouwWeb